Drainage issues often catch people by surprise – you can't see what's going on underground, after all! – as do the costs involved in repairing or reinstalling a system that seemed to be OK.
If you have been in your property for some time, blocked drains and other common problems are going to be inevitable at some stage. But if you are thinking of purchasing a new home, you should really make sure that your drains are in good condition before you get to exchange and it's harder to back out of your purchase.
This is where our Home Buyers' drainage surveys can come in extremely handy.
---
What is a Home Buyer's drain survey?
A Home Buyers' drain survey is a more specialised version of a full conveyancing survey. It assesses the effectiveness of the drainage system that is servicing the property. It will typically contain information on:
The structural condition of your drains
The state of your pipework – for example, whether there are any holes that are causing leaks, or any misconnections that need to be repaired
Who owns what – for example, which parts of the system you are responsible for maintaining, and which parts need to be looked after by a neighbour or by the local water authority
Bear in mind that a standard RICS Home Buyers' survey is very unlikely to cover these issues in detail.
As part of your Home Buyers' drain survey, you can expect to receive:

A full drain map that shows you exactly how your drainage system is laid out
A detailed report containing images and videos from your very own CCTV drain survey
Recommendations from our team as to what issues need to be fixed straightaway, and whether you are likely to be faced with further problems in the near future
---
What happens if you don't invest in a Home Buyers' drain survey?
If you're lucky, then nothing will happen at all. Your drains will be in perfectly good working order, and you'll be able to enjoy settling into your new home with no issues.
However, if there are underlying problems with your drainage system, and you haven't done your due diligence before committing to the purchase, you may end up with a hefty bill for unexpected drain maintenance and repair costs. Worse still, unreported or unseen blockages might cause flooding, rising damp, and even more serious structural problems in and outside your property – and you'll need to pay to fix this damage, too.
---
What kind of issues might the drainage survey flag up?
As we've mentioned, blockages are the biggest culprits. They can be caused by a build up of dirt, debris and backed up sewage, or they can be down to tree roots intruding into the pipework and taking up space. Your Home Buyers' drain survey will also identify any cracked, fractured or collapsed pipes that need to be addressed.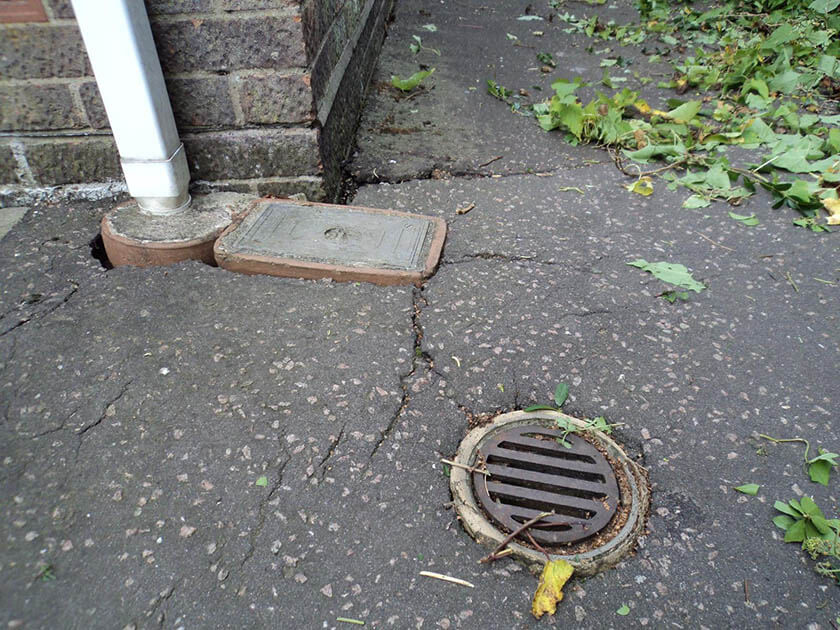 ---
Can you use the survey results to renegotiate with the vendor?
If your Home Buyers' drain survey report throws up issues that weren't disclosed by the seller, then you are well within your rights to renegotiate the property price based on how much it's going to cost to put these problems right.
You could also specify that you want the vendor to fix the issues on their own insurance policy before you proceed with the purchase. This will take much of the hassle out of the process and place the ball in the seller's court.
---
I'm a Buy-to-Let investor – should I bother getting a drainage survey?
Absolutely! It doesn't matter if you're purchasing a property for yourself or as an asset – you need to make sure the finances make sense, and the house or flat is fit to live in.
---
Will I need a drain survey to get a mortgage?
Not all mortgage lenders will need to see a copy of a drain survey report as part of your application – but some will want to know that your drainage system has been assessed by the professionals before they agree to your loan, as its overall condition could affect the property's value. Check with your mortgage company or your conveyancing solicitor.
---
What do we need in order to carry out this kind of drainage survey?
If you want us to carry out a Home Buyers' drain survey at the pre-purchase stage, we just need the name of the seller's estate agent, and the address of the property you're interested in. We will happily contact the estate agent and handle everything on your behalf.
---
Act now, save money later!
Unfortunately, we have dealt with hundreds of cases where buyers have forgotten to review their drainage systems and have been blindsided by all kinds of nasty issues in the weeks and months after their move. We can't stress enough just how important it is to invest in a Home Buyers' drainage survey sooner rather than later. For more information, or to book in your Home Buyers' drain survey with a member of our team, contact Ask Us Drains today.